Show off your results!!! Send us your before and after pictures using Leprechaun Magic (R) for Fiberglass Gel Coat and we'll publish them on our website.
SCROLL DOWN FOR PIC'S AND TESTIMONIALS AND YOU TUBE VIDEO!
Send your pictures to pics@leprechaunmagic.com
---
Just finished "polishing" my 1997, 32 foot motorhome. Took 2 hours including the washing.WOW, what a product. The easy application and the result is amazing.
Thank you very much for the excellent service and the product which FINALLY worked. I would STRONGLY recommend it for anyone who needs an updated old unit.

V.K. British Columbia, CAN

---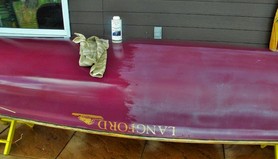 I set to work washing my Kevlar canoe with ammonia, soap and water to remove the winter's grime and any old wax. After it was dry I began to apply your product. I was expecting my canoe to come out looking like it did when wet, uniform in color even though faded. I was overjoyed, impressed (add other suitable adjectives!) at the actual result! The color was restored almost to its original vibrancy as shown in the attached photos. In years past I would spend a day and a half using rubbing compound and then wax to get a result that was still faded and lackluster and then have to repeat in a month. With your product including the initial cleaning I was finished in about an hour and had used very little out of the bottle.
Even with the exchange on our weaker Canadian dollar, the fee by Paypal, and the shipping cost the total came to $85.40 Canadian, to me, it was worth every nickel!. So thank you, thank you! Summer will now have one less major chore! C.M. Ontario, CAN

---

I tried your product on the faded plastic fenders and headlight shroud on a 16 year old motorcycle of mine and the results were impressive.Please see before and after shots.

G. C. Oregon, USA

This is the Before...

---

This is the After!






---
Testimonial posted on You Tube:
"Have to admit, I was beyond skeptical. However... after having our boat buffed a couple of times over the past few years to remove oxidation, I was about to purchase a buffer and oxidation remover product kit when I happened upon this video. Received product today... IT WORKS!! Don't know how long it will sustain it's finish, but I got no problem with applying it a few times per season. It only takes a few minutes for our 19 ft. runabout and I can actually get in between the FOUR WINNS lettering mounted toward the back of the boat on the gel coat band. Looks great! My neighbor (who worked for a local boat dealer for years and has done numerous gel coat restoration jobs) and I both were amazed. We'll see how it holds up, but first impression = GREAT PRODUCT!!!!"
Fast and Easy way to remove the chalky effect of Oxidation on Fiberglass Gel Coat and restore shine - For Boats and RVs