"Seriously, you don't have to go out and buy power tools or sand paper."

IT WILL EASILY REMOVE THE CHALKY EFFECT OF OXIDATION ON FIBERGLASS GEL COAT WITHOUT the EXTRA WORK! For Boats and RV's



LEPRECHAUN MAGIC(R) 'Absolutely will Not' CRACK OR PEEL. It's NOT a Polymer or Silicone! It's not like anything else. So easy to use, you can apply it with any rag or even a paper towel. It can go over an entire area and won't harm wood, vinyl, metal, rubber, plastic, or the environment.



Go Green!
Leprechaun Magic(r) is Eco-Friendly and is made with natural, renewable waxes.

_It Really Works! Really.... NO ELBOW GREASE Needed!
Easy to use!
No need for sanding or other abrasives!
Instant Results!


_ For the environmentally conscious person, who has little time. Non-Toxic. No petroleum distillates or harmful chemicals of any kind.
Use to the remove the chalky effect of heavy oxidation and restore shine on fiberglass gel coat.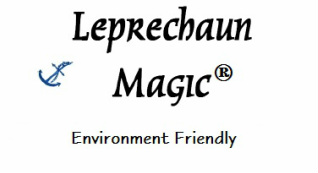 Fast and Easy way to remove the Chalky Effect of Oxidation on Fiberglass Gel Coat and restore shine - For Boats/RVs
Leprechaun Magic(R) All Natural Non Toxic Environmentally Friendly